FLIGHT TRAINING THE FAST AND EASY WAY

An easier alternative to the same old, boring, technical & hard to follow aviation training material


FLY WITH JOE STANDLEY
LISTED IN THE TOP INSTRUCTOR LIST & RECOGNIZED AS ONE OF THE BEST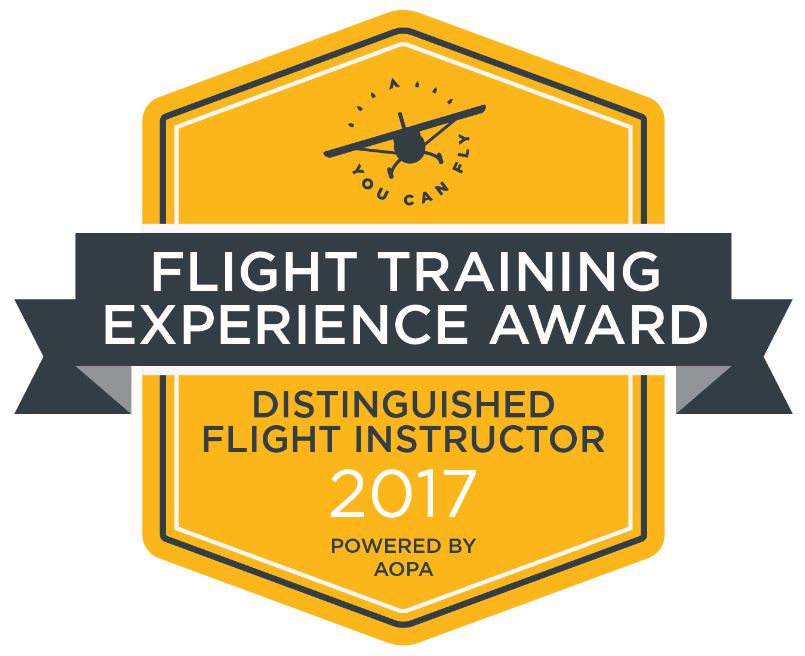 Flight Training E-Lessons
Why buy a whole book when you are struggling with just one or two areas? You can get just the lessons you need.
Flight Training Problem Areas
Simple, step by step explanations for common problem areas in flight training. We've eliminated the technical language to make it as easy as possible for you!
No More Struggling To Understand
These are not the typical explanations that you find everywhere else. They are designed to get results that work.
FLIGHT TRAINING MADE SIMPLE!
Flying to a Towered Airport
Popular Video!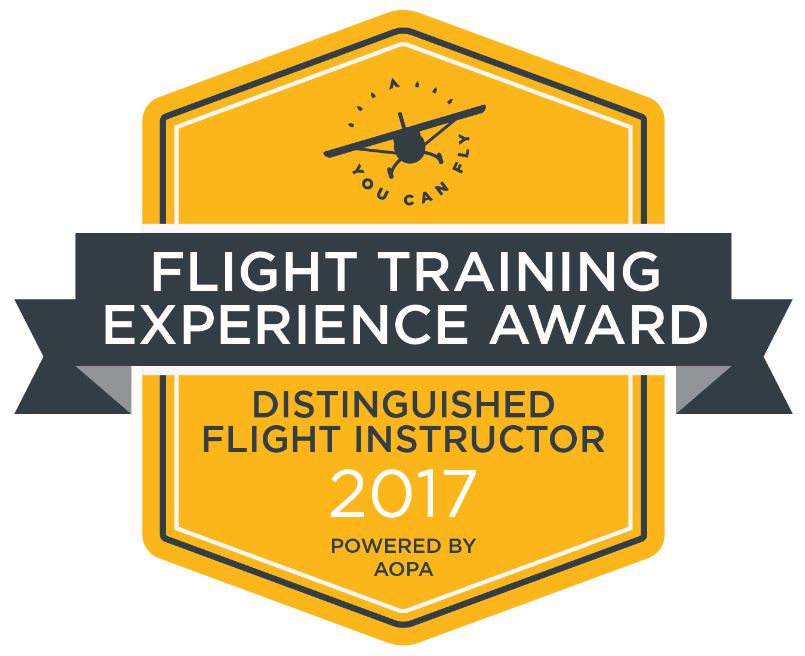 What Our Customers Are Saying
Don't just take it from us, let our customers do the talking!
"Hi Joe,
I read through the VOR lesson today from your website. THANK YOU!  
Before getting your VOR lesson, I read both the test prep and handbook sections on VOR's from other books and could follow what they were saying but not apply it. I would take practice tests and get several of the questions wrong.
After I read your booklet, I went straight to the Gleim and ASA test prep questions. The only one I missed was because I estimated a length (NM on a chart) incorrectly. So it works! I had to go back and reread my textbook to see why I was so confused in the first place because it seemed straight forward after your description. 
I think the reason I understood your method better was you described and then applied each portion of a difficult topic individually. The difference seemed to be you took each part; Radial, CDI and to/from, explained it and then immediately demonstrated how to apply it. Like–you've got to learn to hold altitude in level flight before you start practicing stalls with minimum altitude loss. I'm still working on that one. 
Have a good week"
Lindy
"Just watched your control tower video. It was GREAT!!!!! Just what I needed. Thank you soooo much. I'm off to find a control tower airport with confidence now" Ron
"Thank you for all your efforts in setting forth a safe training environment and professional approach in aviation training." Herman
"Thanks for the great tips! I look forward to getting them and I always learn something. Thanks!" Joe
"Great learning material, timely information and interesting stories. Thanks for taking the time to put the site together." Kim
Regarding the article on How to Find the 45° Entry…
"BTW, this tip was a really good one. I tried it in flight this weekend and it really works! I'm usually busy drawing my approach to an airport on my kneeboard!"
David
"Joe, great stuff on your web site. I love your approach to training!" Sean
Hours of Flight Experience From The Product Creator
New Products and Working on More
FLIGHT TRAINING E-LESSONS

If you're struggling with just a couple of areas in flight training, then why buy a whole book to solve your problem when you can get just the lesson you need? These e-lessons cover common problem areas of flight training broken down into easy to understand steps, eliminating the technical language and confusion!
This is not the same "hard to understand" training material you are used to seeing. These e-lessons are written in a casual & easy to understand format with you in mind. Many hours went into each e-lesson to be sure they cover everything you need to know while keeping them simple enough to be sure you get it. Available for immediate download in PDF format for easy access on your iPad or other device.
Get just the lesson you need! Click here for more details of each item.
NEW FOR IFR STUDENTS!
INSTRUMENT

TRAINING E-LESSONS

These e-lessons focus on the pilot getting an Instrument rating, detailing common weak areas in IFR training. This training will prepare you for exactly what you need to know to fly IFR in the real world. Learn exactly how, when & why to do certain things and how to always stay ahead by knowing what will happen next. These e-lessons are also available for immediate download in PDF format for easy access on your iPad or other device.
Get just the lesson you need! Click here for more details of each item.
Frequently Asked Questions
What makes your material different?
They are designed by an instructor with close to 6000 hours of dual instruction given and over 7000 hours of total time. Over the years he has learned ways to get the message across to students. Most of the technical language has been eliminated and put into a format to help you visualize and understand what the current material is unable to do.
Do you have any physical products?
No, all of our products are digital products. The e-lessons are delivered in PDF format and the other products we offer are online access.
What if I have questions or suggestions?
Send us an email. We love to hear from you, whether it is a question about a product, a problem or just to say hi. We are also open to hearing feedback, or suggestions about products or posts you'd like to see. If you'd like to write an article to put on our site, send us an email with the details.
More Aviation Training Products
We're working hard to create more valuable products for you. All of them are designed to be as simple as possible to understand.
Private Pilot Oral Exam Prep With a Pass Your Checkride Guarantee!
Best Value
One of the Most Realistic, True to Life Courses Anywhere

Details Exactly What You Need to Know to Properly Prepare for Your Checkride

Straight Forward & Easy to Follow Instructions

Exact Method Used by an Experienced CFI to Pass All His Students

Walks You through Just About Every Line in the PTS

How to Properly Present Information to the Examiner to Guarantee Success & Avoid Surprises
Aviation Weather Made Easy
This is the Weather Section of Our Private Pilot Oral Exam Prep Training Made into a Stand Alone-Product

You Can Upgrade at Any Time to the Full Set of the Oral Exam Prep Videos

Focuses on Making it as Easy as Possible to Understand & Analyze the Weather

Includes a Trip Demo Showing Each Chart for the Route & What to Look For

Covers all Charts in the PTS

Feel Confident in Making a "Go, No Go" Decision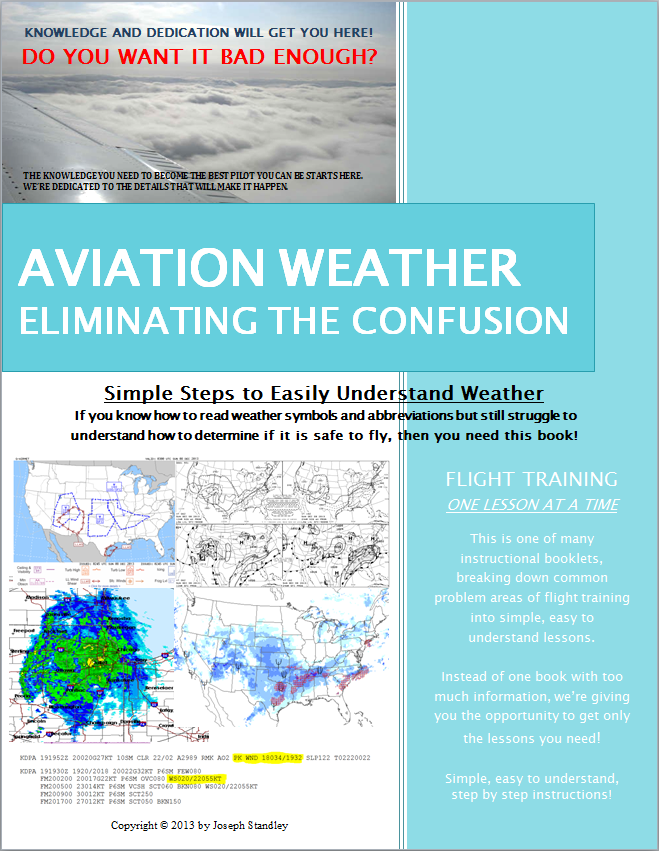 Aviation Weather
If you know what the weather symbols mean but can't make sense of it all, then this lesson is for you! Learn how to understand what you are looking at so you can make safe "Go – No Go" decisions! We've made Analyzing weather and Weather Decision Making  easy for you with simple explanations.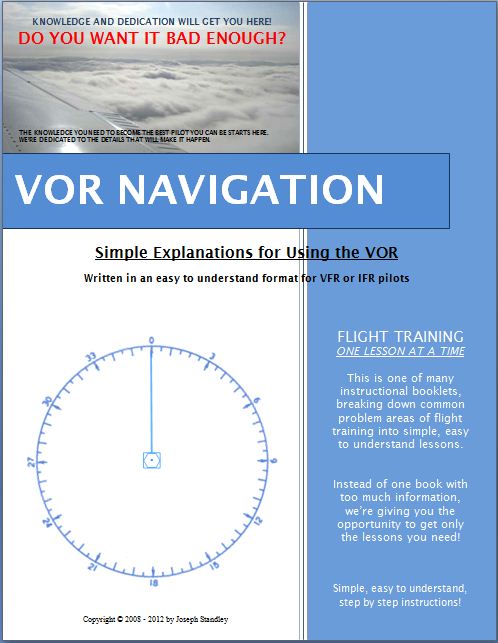 VOR Navigation
Detailed, easy to visualize explanations and diagrams to eliminate confusion. Just a couple of simple things to remember to avoid confusion. You won't find an easier explanation than this. If you're confused after reading other books on VOR's then this should make things much more clear for you.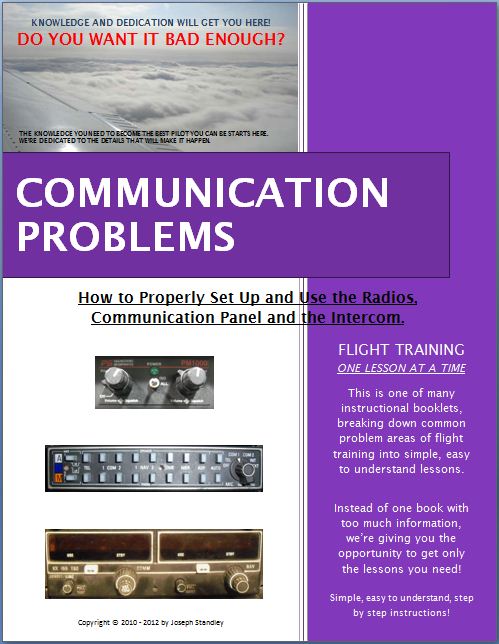 Communication Problems
Learn how to properly set up and use the radios, communication panel and intercom. Many times, people get in the plane and hear static, or nothing at all. They start twisting knobs and pushing buttons trying to figure out what is wrong, just to end up making things worse. This will show you how to stop the confusion and the problems.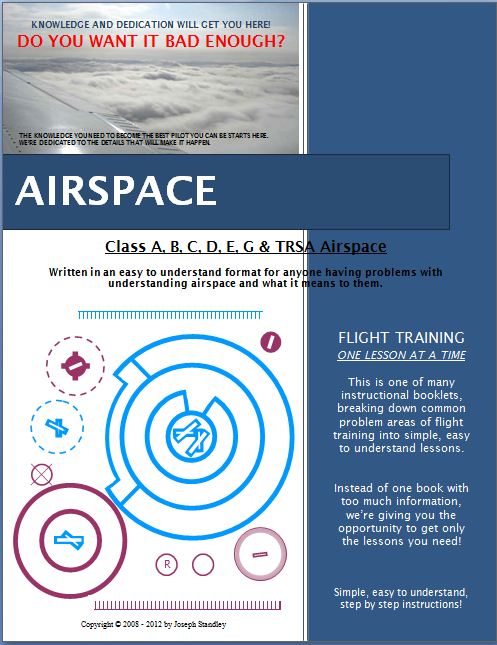 Airspace
Easily identify airspace and the requirements to fly in that airspace, including weather, transponder and communication. Includes detailed memory aids to help you remember who to talk to, whether they have radar or if you need a transponder, etc.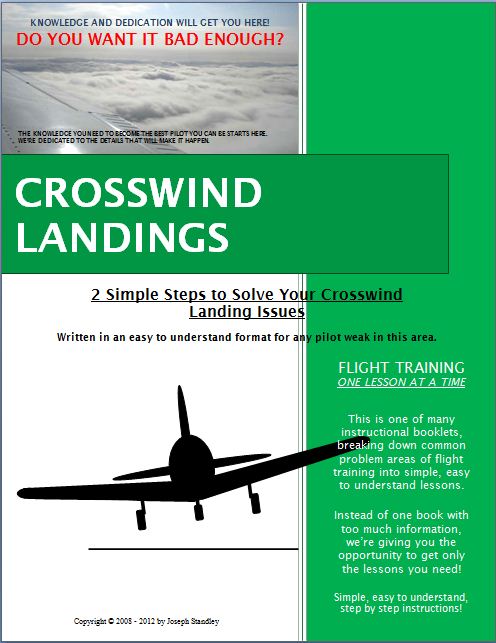 Crosswind Landings
2 simple steps to solve your crosswind landing issues! What you should be looking at and what you should be visualizing while controlling the plane. Try it a few times and once you get understand, it will be locked in for good.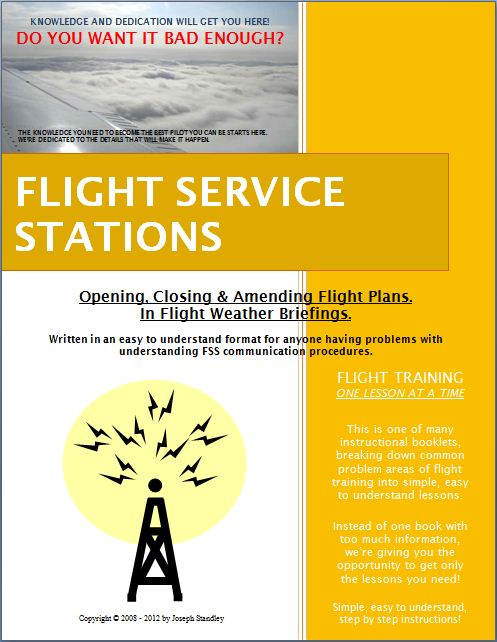 Flight Service Stations
Talking with a Flight Service Station doesn't have to be intimidating. We will discuss Opening, closing & amending flight plans. In flight weather briefings. Which frequencies to use and how to use them and more.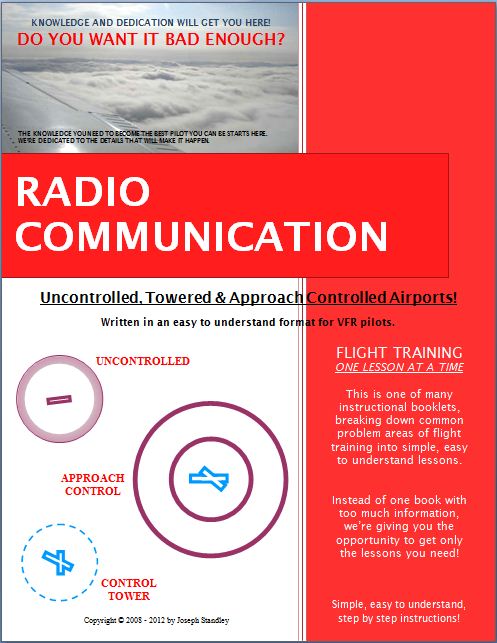 Radio Communication
Written in an easy to understand format for VFR pilots. What to say, when to say it and how to say it. Know when you can enter airspace and when to stay out. Learn to anticipate the conversation with controllers before it happens to avoid confusion and mic fright. It's way easier than you think. There are just a few key things to remember to make every call make you sound like a pro.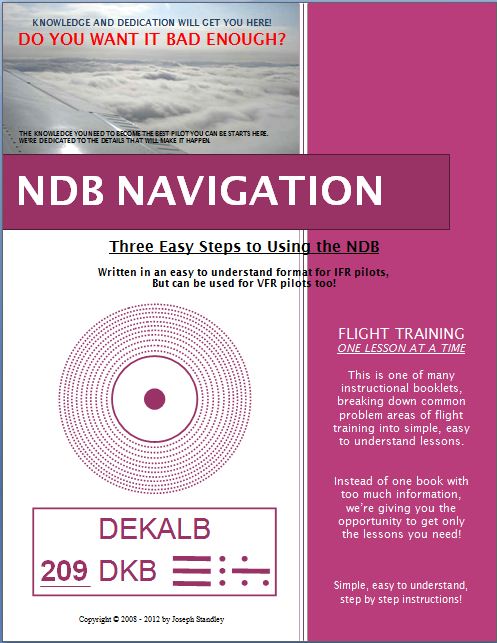 NDB Navigation
For IFR and VFR pilots too! If you ever wanted to master an NDB approach then this is definitely for you, it's way easier than everyone thinks! Forget all the complicated stuff you've been trying to understand, you don't need it!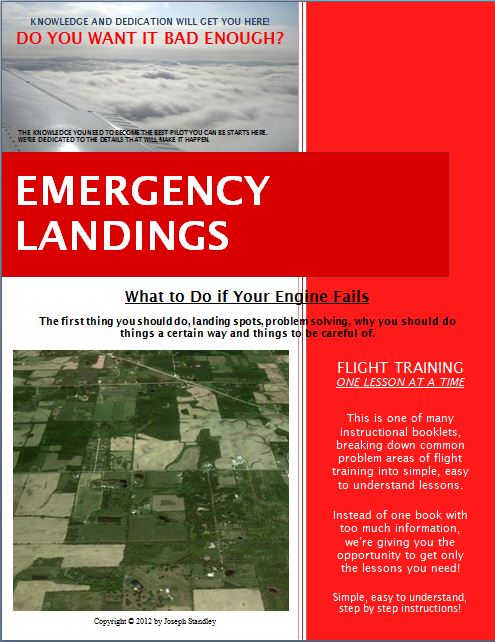 Emergency Landings
Learn what your first reaction should be in various engine failure situations and how to use a flow that is more natural so it will be easier to remember. How to choose a good landing spot, problem solving and more. Common mistakes and their results are described. Deadly mistakes to avoid! This is a MUST HAVE lesson!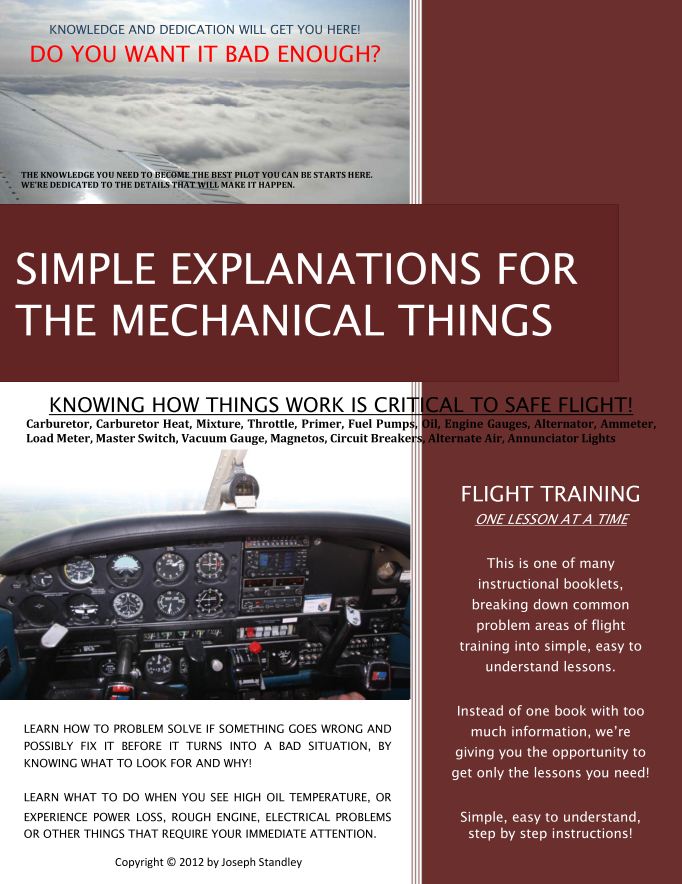 Simple Explanations For The Mechanical Things
In order to problem solve you need to know about these things! If you have an understanding of how things work then problem solving will be much easier. Includes detailed explanations that will help you visualize how things work. Written in terms that people with no mechanical knowledge or ability can understand easily.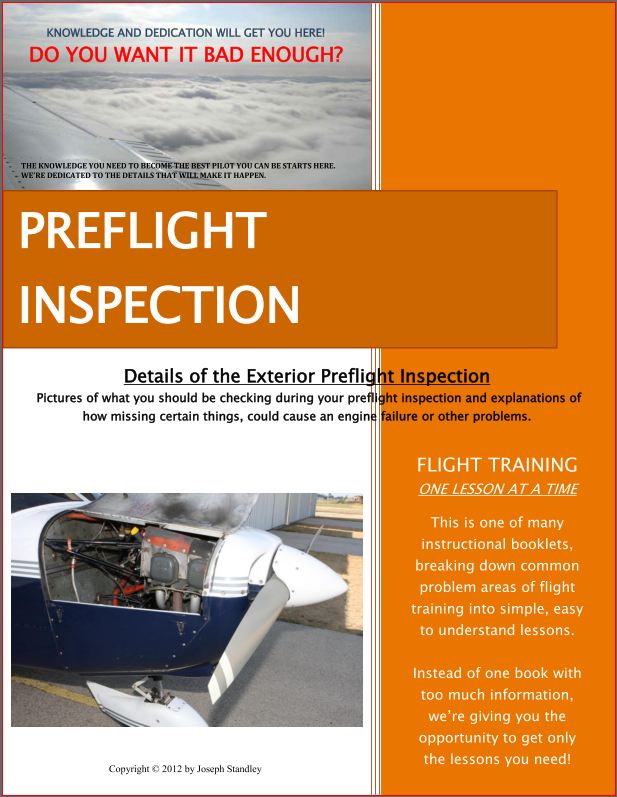 Preflight Inspection
Details and pictures of what you should be checking during your preflight inspection and explanations of how missing certain things, could cause and engine failure or other problems. You don't have to be a mechanic to do a good preflight because most of it is easier than you think.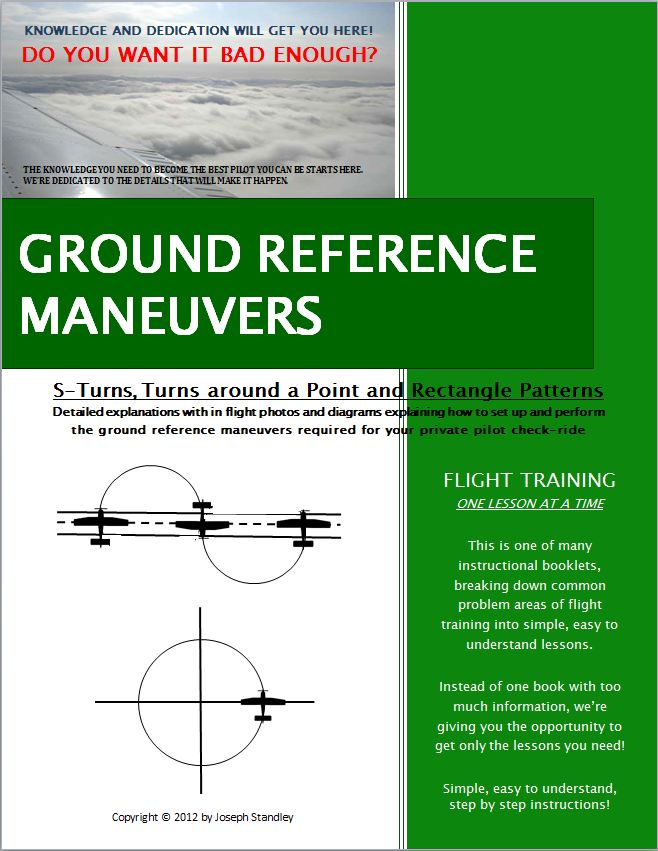 Ground Reference Maneuvers
In flight pictures  and descriptions of how to perform S-Turns, Turns around a Point and Rectangle Patterns with better control and understanding. Explains how to set up and key points to be looking for to be sure you stay within the limits required for your checkride.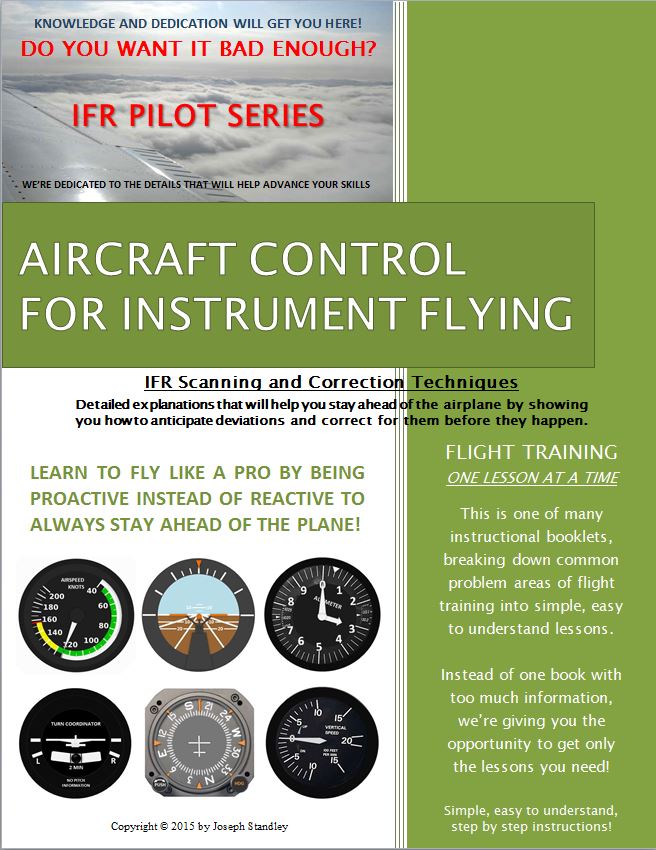 Aircraft Control for Instrument Flying
IFR Scanning and Correction Techniques
Techniques that will help you stay ahead of the airplane by showing you how to anticipate deviations and correct for them before they happen while flying in IMC. Knowing how to anticipate and fix deviations before they happen will reduce your workload and make flying IFR much easier. Learn about straight and level flight, constant airspeed climbs and descents, turns, airspeed and vertical speed control and more.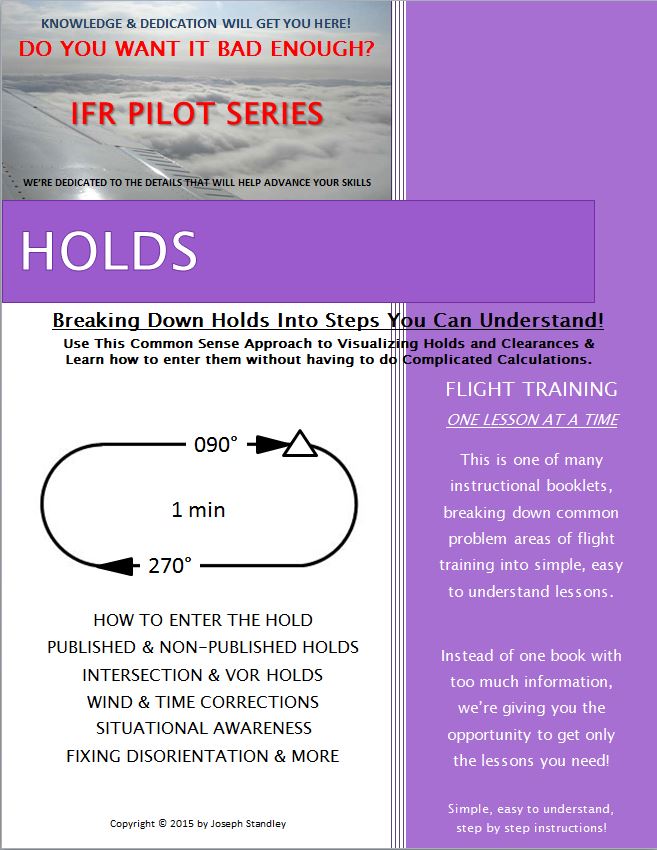 Holds
Use This Common Sense Approach to Visualizing Holds and Clearances!
An e-lesson that breaks down IFR holds into steps you can understand! Visualizing holds and hold clearances will be much easier for you. You'll learn how to enter holds without difficult calculations. You will also learn about published and non published holds, holding at intersections and over VOR's, wind correction, time correction and more.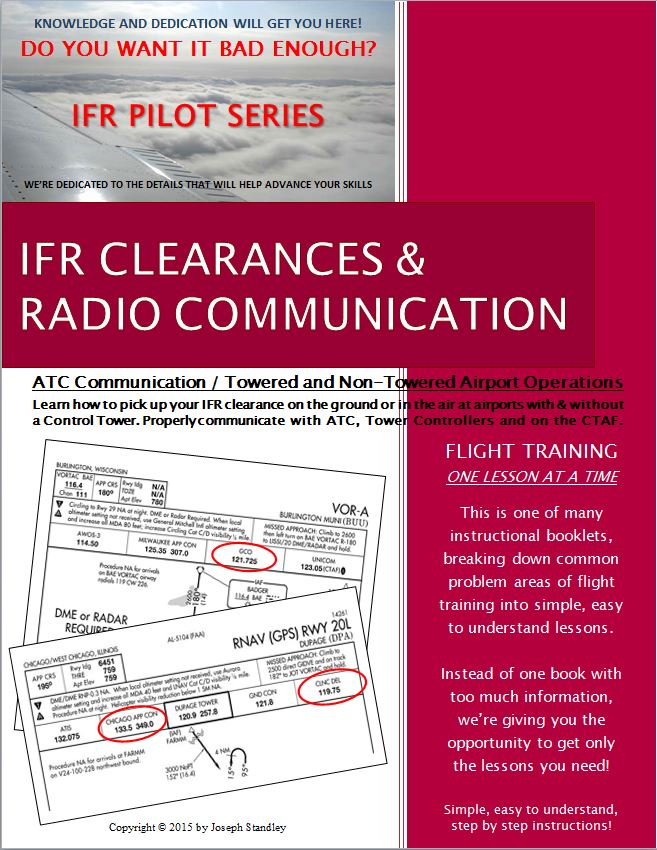 IFR Clearances and Radio Communication
ATC Communication / Towered and Non-Towered Airport Operations
Talks in detail about how to pick up your IFR clearance on the ground or in the air, at airports with & without a control tower. It covers various different methods so you don't get stuck wondering what to do. You will also learn how to communicate with ATC, Tower Controllers and on the CTAF with examples of exactly how you need to say it. It will also cover clearance void times, valid times, clearance on request and hold for release situations.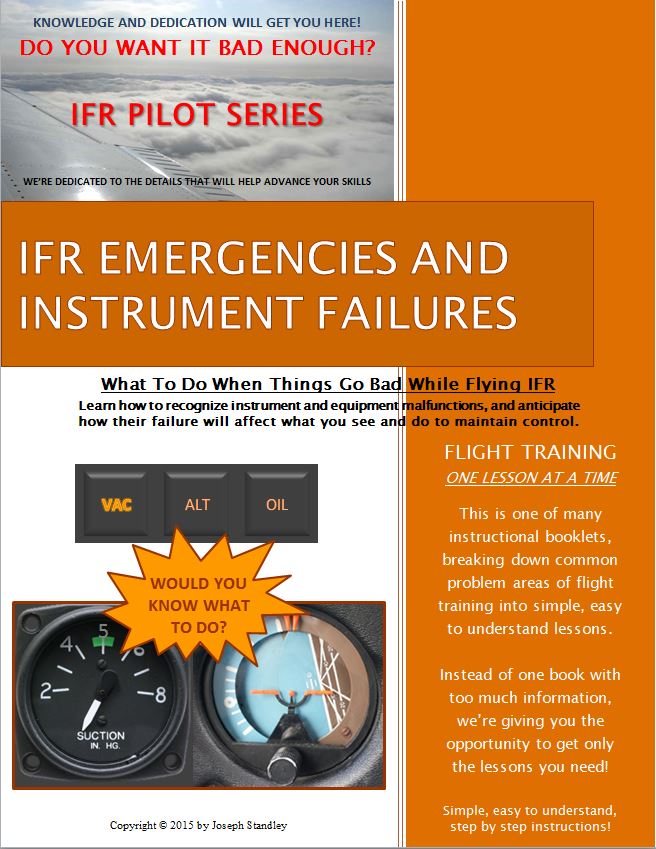 IFR Emergencies and Instrument Failures
What To Do When Things Go Bad While Flying IFR
Explains in detail many different dangerous scenarios that could happen to you while flying IFR. It will teach you exactly what you need to do when things go bad while flying IFR. Learn how to recognize instrument and equipment malfunctions, and anticipate how their failure will affect what you see and do to maintain control of the plane. You will learn how to recognize all the warning signs  and maintain control with vacuum failures, gyro instrument failures, electrical failures, pitot static, icing and more.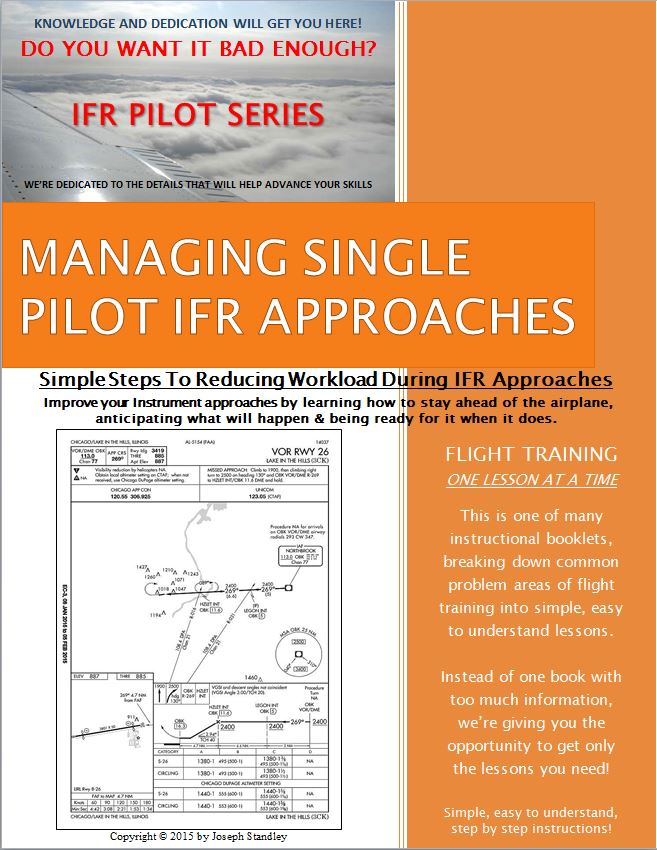 Managing Single Pilot IFR Approaches
Simple Steps To Reducing Workload During IFR Approaches
Discusses the details of what you should be doing and planning during your IFR flight to help you stay ahead of the plane by properly managing your workload. You will learn how to anticipate what the controller will say to you before he says it and to visualize where you are easily. Reading back approach clearances and setting up your approaches will be much easier for you.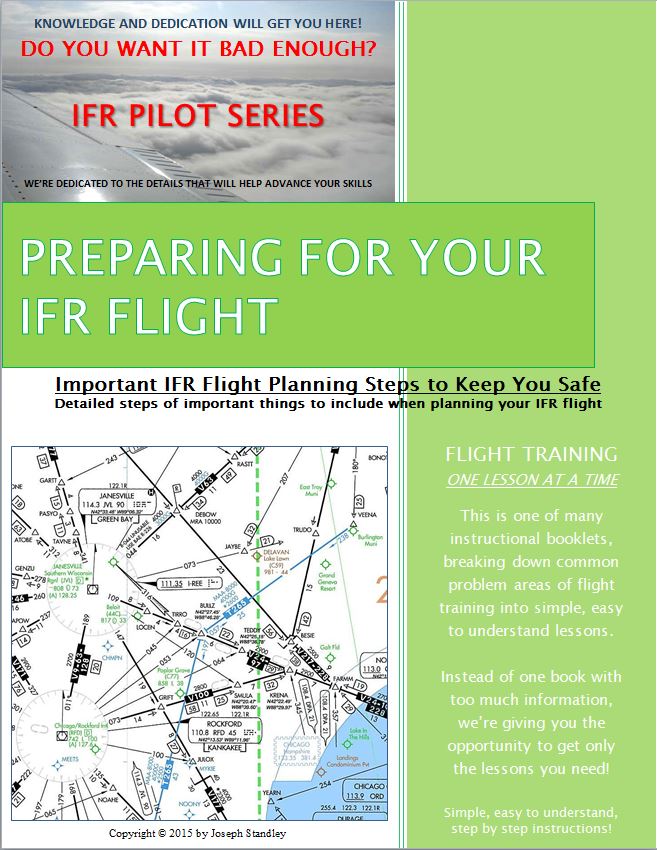 Preparing for your IFR Flight
Important IFR Flight Planning Steps to Keep You Safe
Takes you through everything you need to check in preparation for an IFR flight, where to find it and why it is important. You will learn how to choose a destination airport, how to choose an alternate airport, things you need to know before taking off or landing at an airport from a legal and a safety standpoint, Stars, DP's, Obstacle clearance requirements, weather requirements, etc.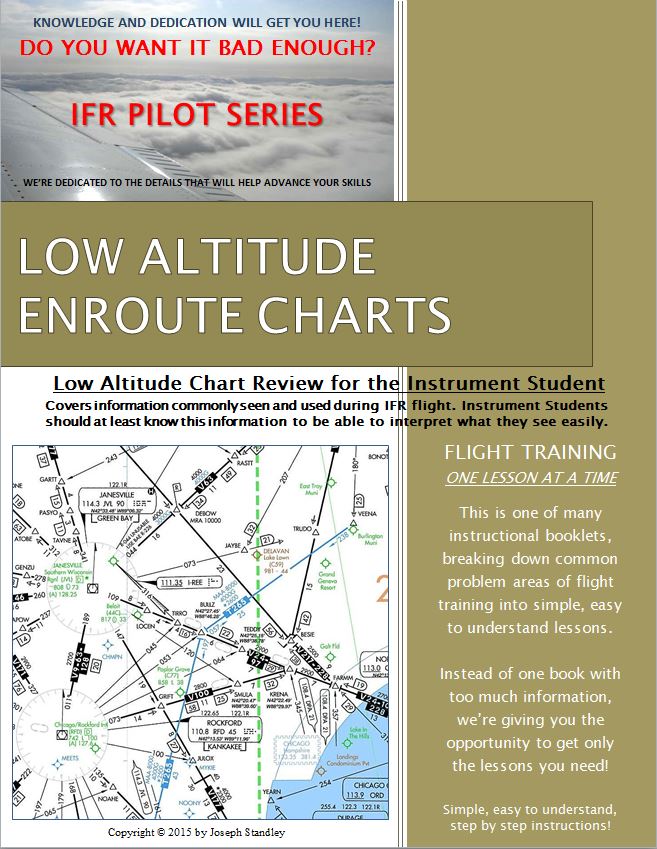 Low Altitude Enroute Charts
Low Altitude Chart Review for the Instrument Student
Covers information commonly seen and used during IFR flight. Instrument Students should at least know this information to be able to interpret what they see easily.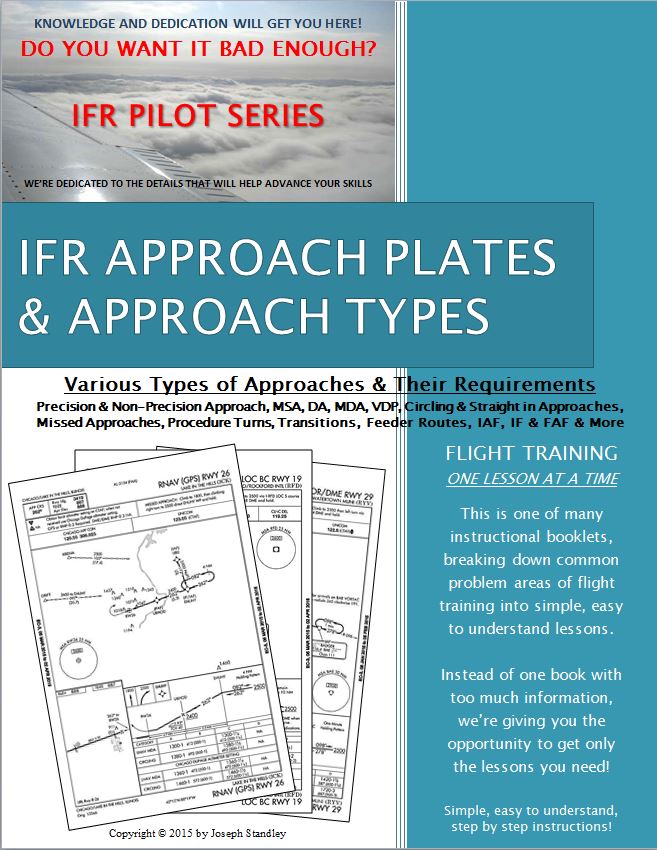 IFR Approach Plates & Approach Types
Various types of approaches & their requirements / Understanding approach plates
In this lesson we will discuss the many different things you will see on Precision & Non-Precision approach plates such as: MSA, DA, MDA, VDP, Circling & Straight in Approaches, Missed Approaches, Procedure Turns, Transitions, Feeder Routes, IAF, IF & FAF & More.
We will discuss the things you need to know at a glance that will keep you safe while doing an approach.
Don't Be Shy
If we didn't answer all of your questions, feel free to send us an email anytime.
FLY SAFE!
Thanks for stopping by!